VOLTYRE AGRO 800/70R32 680/85R32
800/70R32 and 680/85R32 VOLTYRE AGRO DF-5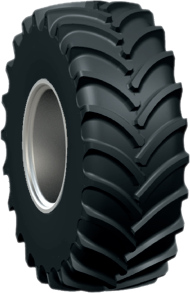 Low pressure
High load index
Competitive price
Radial tubeless tires 800/70R32 DF-5 and 680/85R32 DF-5 under the brand VOLTYRE-AGRO are designed for operation on combines of Russian and foreign production, performing work in agriculture.
There tires may be installed on various modifications of combines. Tires have high load index and low pressure on the soil.
Large, wide lugs protect the soil and plants. The tread pattern provides excellent traction and constant, uniform speed for harvesting. A high tread provides good traction, a safe, stable and comfortable ride due to a large contact area and a verlapping lugs in the middle of the tread.
The tires have self-cleaning properties due to the smooth area between the teeth of the tread. These tires make the machine more productive and contribute to lover fuel consumption.
The company JSC Voltyre-prom supplies tires 800/65R32 VOLTYRE AGRO DF-1 TL for the Claas Russia.